---
The official web site of The Town of Cushing Maine
Upcoming Meetings and Events
---
Select Board
Meeting
June 27, 2022
6:00pm
Cushing Community Center
Agenda, when available,  here.
---
 Planning Board
Workshop
July 6, 2022
 4:00PM
Cushing Community Center
---
Announcements
---
BOAT & TRAILER FOR SALE
The Georges River Regional Shellfish Joint Board is now accepting bids for a 1996 14ft Sylvan aluminum boat (motor not included) and 2013 Load Rite boat trailer.
Details here
---
TOWN OF CUSHING
OFFICE ASSISTANT (updated)
The Town of Cushing is seeking applicants for a part-time Office Assistant. The qualified applicant will assist the Town Clerk/Treasurer and Tax Collector in performing a wide variety of duties including, but not limited to, processing motor vehicle registrations, collection of taxes and other payments/fees, cash-ups, records/file management, answering phone inquiries, elections, and general clerical and bookkeeping duties as required. Solid experience with Microsoft Word and Excel is expected, as well as overall computer literacy and the willingness and competency to learn new things. Qualified individuals must be able to multi-task, be highly motivated, maintain confidentiality, have excellent written and oral communication skills as well as basic math skills.   
This is a regular part-time position of approximately 10 hours per week and occasionally more on certain weeks as needed to cover vacations, elections, etc. Applicant must be able to be bonded.
The applicant does not need to be a Cushing resident.
To apply please submit cover letter, resume, and at least three work-related references to:
Town of Cushing
Office Assistant Search
39 Cross Road, Cushing, ME 04563
or via e-mail at cushingme@roadrunner.com
The Town of Cushing is an Equal Opportunity Employer.
---
General Assistance
The municipality of Cushing administers a General Assistance program for the support of the poor.  Pursuant to Title 22 MRSA §4305, the municipal officers have adopted an ordinance establishing that program.  A copy of this ordinance is available for public inspection at the town office.  Also available for inspection is a copy of the State's General Assistance Statutes, as copies of the State law are made available to the municipality, by the State of Maine Department of Health and Human Services.
Persons who wish to apply for General Assistance may do so at the Cushing Community Center Monday- 8:30am-4:30pm, Wednesday- 8:30am-4:30pm, and Friday-7:30-2:30pm.
In case of an emergency, applicants may contact: Alton Grover at 701-7808.  
A written decision must be issued within 24 hours from the time of application.
The Department of Health and Human Services' toll-free telephone number, to call with a question regarding the General Assistance Program, is 1-800-442-6003. 
This notice is posted pursuant to Title 22 MRSA §4304-4305
---
Town of Cushing
Broadband Planning Report
A copy of the report can be found here
---
Food Pantry Volunteers
The Food Pantry is always looking for volunteers. If you are interested in helping, please contact Karen Goodwill at 354-0669.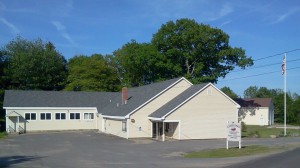 Town Office, Library and Community Center
39 Cross Road
Cushing, Maine 04563
---
Town Office Hours:
Monday 8:30 to 4:30
Wednesday 8:30 to 4:30
Friday 7:30 to 2:30
Telephone: 207-354-2375
Fax: 207-354-1375